Xfinity is an American telecommunications service provider (owned by Comcast Corporation) that offers cellular, internet, cable television, and telephone services to consumers, On this article we will show you several ways to do the famous Xfinity IMEI unlock.
This network provider is more focused on home TV and internet plans, but there are still some mobile plans that only Internet customers can access and device payment plan services (you can even trade in your old phone with Xfinity USA Mobile).
If you are one of the customers having issues with an IMEI blacklist report because of a misunderstanding with your Xfinity account or because of a second-hand Xfinity phone that came locked, ESNDoctor is the solution you need to unlock your phone permanently.
Get to know all the benefits we have for you and how to take advantage of ESNDoctor's entire unlocking process, which is 100% free of charge.
The Three Options to Unlock Xfinity Mobile Phone
The following information on the three alternatives for unlocking a mobile phone's IMEI number will help you choose which is the best option for you.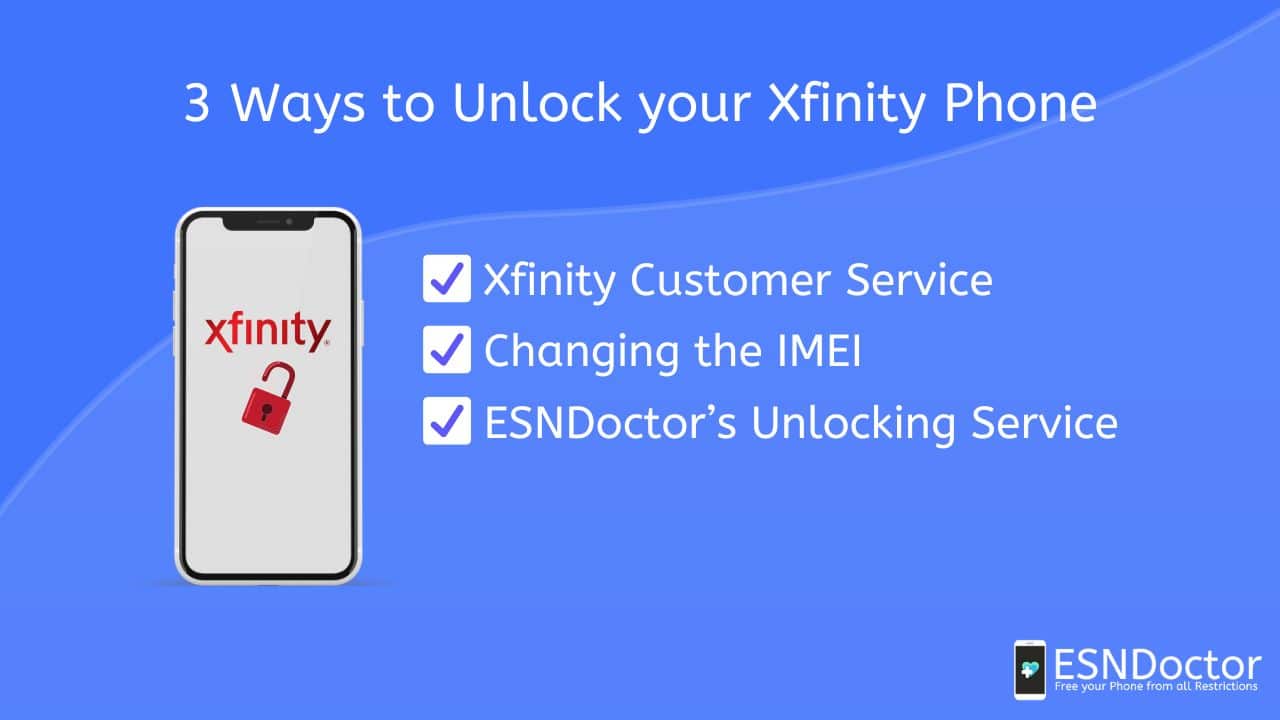 Contacting Customer's Xfinity Mobile Service
Carriers (including Xfinity) are able to unlock locked phones when the user presents enough documentation to support that the device was mistakenly blacklisted. Keep in mind that Xfinity or the original carrier that locked the device won't assist you if you bought a second-hand phone (a device registered under someone else's name); you can only do this if you are the original device's owner, and if you are, you should take the following into account:
The long wait time (it will take you up to 2 weeks to get the unlocking authorization).
The difficulty (to request an IMEI unlock from the carrier, you will need to go to their office, as this process cannot be done remotely).
The paperwork (as we mentioned, you will need to present a lot of supporting documents for your phone to unlock).
Changing the IMEI of your Xfinity Mobile Phone
Changing the IMEI number, no matter if the process is made on Android phones or iPhones, is a pretty dangerous procedure, and it's illegal in the US. This is because the process has some significant downsides, including the high probability of:
Stop receiving any software updates at all.
Losing the warranty on your Xfinity mobile phone.
Completely damaging your Xfinity phone while attempting to modify its IMEI.
ESNDoctor's Unlocking Service
Your final alternative is to employ a third-party unlocking service, such as the Xfinity IMEI unlock software from ESNDoctor, to get your phone off the blacklist. Our blacklist removal services are offered anywhere (international unlocks) and can quickly and successfully clear an IMEI number without any charge, so you can just save money while we take care of the lock. Remember that with us:
The process will take approximately 15 minutes and you can do it remotely (no need to take your phone somewhere).
There is no paperwork for you to do (actually, there are no requirements, you just need your IMEI number).
Your IMEI number will remain the same so your warranty will still be active.
The unlocking process is 100% automated and safe (your phone's performance won't be affected).
Is ESNDoctor Compatible with my Xfinity Phone?
One of the great advantages of unlocking your Xfinity phone with ESNDoctor is its high compatibility with all brands/manufacturers, models, and operating system versions.
The entire unlocking process has been designed to adapt to the specifications of the device to be unlocked — specifications that we get when you first enter your phone's IMEI number into the program —, in addition, let's remember that an IMEI unlock is all about removing this IMEI code from the blacklist database (that was entered there when the IMEI report was made), so the process doesn't really have any impact of the device itself.
So, the short answer to this question is yes, the ESNDoctor's unlocking protocol is compatible with all Xfinity phones so no matter if you have an Xfinity iPhone or Samsung smartphone, they all can be unlocked as long as you have handy your IMEI number.
Is ESNDoctor Safe to use?
Yes! the whole process is completely automated, so you can rest assured that nobody has actual access to the information you enter on the website. In addition, we have enabled an encryption protocol that encodes all your data until the Xfinity mobile phone is unlocked (after that, all the information is automatically eliminated by the program itself).
Frequent Questions
Let's talk about the most frequently asked questions by people wanting to unlock their Xfinity mobile phone (or phones from other carriers) with ESNDoctor's free unlocking tool.
Do I have to make any Payment for the Service?
A lot of people ask if they are going to get charged at some point for the unlocking service we offer, and the answer is that there is no payment required and we don't charge our customers. If you want to unlock your phone with us, you can do it 100% for free.
Is it hard to Unlock an Xfinity Phone with ESNDoctor?
Not at all. Unlocking your phone with us is very easy, and you don't need any technical skills or knowledge to use our unlocking software (the instructions on ESNDoctor's website are pretty clear and easy to follow). In addition, as the process is 100% online, you can rest assured you won't need to download or install any program to your computer or phone.
Why do I need my IMEI number?
You need your IMEI because that code is like your phone's ID; it is a unique code that will provide us with information about the device that needs to be unlocked and will also help because that exact IMEI code is the one we need to remove from the blacklist database.
How do I Find my IMEI?
You can find the IMEI of your Xfinity phone by checking if it is printed on the device's SIM card tray, back cover, or original box. If you have an Xfinity iPhone you can also see this information on your iCloud account or in iTunes (for Samsung phones you can go to "Google Find my Phone" to do so).
Am I going to receive an Unlock Code?
A lot of people think the outcome of this type of procedure is an "unlock code" for them to have their phone unlocked; however, as soon as this lock is activated when carriers add an IMEI to the blacklist database, the outcome of the unlock is just to have your IMEI removed from that blacklist, so there is not any kind of unlock code needed.
How to Unlock my Xfinity Phone with ESNDoctor
Find here the easy-to-follow instructions to unlock your Xfinity phone with ESNDoctor, remember that you don't need any technical skills to complete the process and that you can do this from any computer or other device (you just need an internet connection, access to your email address, and the IMEI of your Xfinity mobile phone).
Start your Unlocking Process
To start the unlocking process of your Xfinity mobile phone you will need to visit ESNDoctor.com and click on the "Unlock your Phone" button. After that, it is just a matter of filling out the form on the page by entering your name, email address, the manufacturer of your phone (it's brand), and your phone's IMEI.
Remember that you need to enter a valid and working email address because we will send you the activation link to it for you to continue the process (just log into your email and check the message we sent, click on the link to activate the order you just placed).
Start the Unlock of your Phone
After clicking the link, you will be asked to watch a tutorial video very useful for you to better understand what to do next, watch the video and then start the authentication process for you to validate your identity and get your access key (after you generated your access key, please enter it along with your order number to the "Validate Key and Start Unlock" form.
Remember that if this is not the first time you use our services, you can use the access key you already have.
Enjoy a Fully Unlocked Device
After this, you just need to wait until the system finishes processing the unlocking request of your Xfinity mobile phone and removes the blacklist report, remember to restart your device after the process is finished and the program tells you to, and enjoy!