Permanent and Safe Unlocks
All services provided by ESNDoctor are safe and permanent, meaning once your device is unlocked, you don't have to worry about being blacklisted ever again. We offer high encryption technology to ensure full privacy.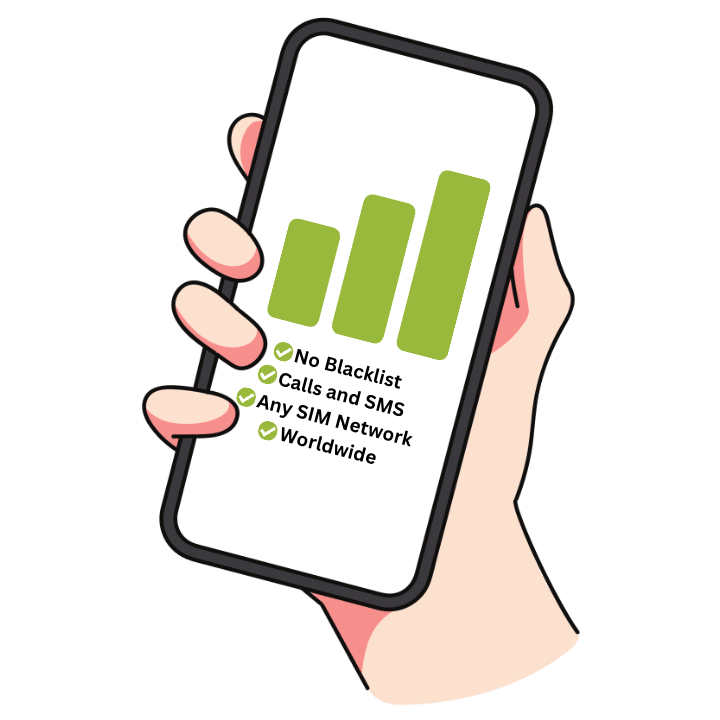 Vivo is a Chinese smartphone manufacturer established in 2009 and owned by BBK Electronics (they market high-spec cellular devices, programs, and accessories). Vivo mobile phones are very popular for their affordable prices and high-quality cameras, batteries, and RAM, among other premium features. 
If you own a Vivo mobile phone but it was blacklisted by your network provider and you have not been able to get it back to normal, that's because you haven't tried ESNDoctor yet! Get to know all the benefits that come with our online software and recover your blacklisted Vivo device within a few minutes!
Buying a Used Vivo Device? Here's what you Should Verify Beforehand
If you are thinking of purchasing a Vivo phone, that's great! but there are some key verification steps we recommend that you follow before you buy it so that you make sure it is not blocked or reported as lost or stolen on the blacklist database, this will definitely save you a lot of time and stress if the phone happens to be blacklisted!
Why is it Important to Factory Reset the Phone Before Buying it?
Remember that Vivo phones are Android-based, and Android devices have usually a lock known by the name of "FRP lock" (Factory Reset Protection) which will lock your access to the smartphone if you don't enter the credentials of the Google account associated with the device in question.
This should not be a problem if the previous owner of the phone already made sure to eliminate all their information from it, but to rule out any possible access denial, it is always good to reset the phone to its factory settings and confirm everything seems fine.
Why is it Important to try on a SIM Card on the Phone Before Buying it?
This is such an important step before you buy a phone because you want to make sure the cellular device can get connected to a mobile network. This is because blacklisted phones can't place or receive calls, send or receive messages, or use mobile data (because an IMEI report will lock the connectivity functions of the phone), so it is important to see if the phone can operate with your SIM card.
If you want to, it would be a good idea to see if the phone works with two different SIM cards from different network providers because that's how you make sure the phone doesn't have a carrier/network lock (where your mobile operator locks your phone's terminals so that it can only use their network).
Determining Whether my Vivo Smartphone is Blacklisted or not
If you think your mobile device is reported on the blacklist but you're not sure and would like to confirm or corroborate your IMEI status, we'll help you out in the following paragraphs… Let's go ahead and check how to confirm whether your phone is blacklisted or not!
Does your Phone have Network Issues?
The very first signals that could point your network issues to a blacklist report must be verified to confirm if this is really the case or if you are just experiencing phone failures or a network lock. If you are having network issues, then it would be great to enter a different SIM card to the one you are used to (from another carrier) because as we explained before, carriers sometimes lock the devices they sell to keep their customers on their business.
If your phone is still not able to work and it doesn't show a message saying "SIM not supported", and you are not able to make/receive calls, messages or use mobile data, then there is a high possibility that you're truly dealing with a blacklist report and need to unblock your phone.
Ruling Out Possible Blacklist Causal Factors
One of the principal steps to find out if your IMEI is blacklisted is to ask yourself, is there any reason why my carrier would blacklist my Vivo phone? Now, if you have a used device there is not much you can assume about its IMEI status (for all you know the device can be reported as lost or stolen), but if you are the original owner of the phone and it was blacklisted, then it will be good to analyze: 
Are you in good standing with the carrier regarding your mobile plan?
If your device was financed with your carrier, are there any past-due installments?
Has your financial institution (your card's bank) initiated any fraud investigation?
If not, another reason why your phone is blacklisted could be just a human mistake, maybe one of your network provider representatives made a mistake when reporting another IMEI number and added your phone's IMEI to the blacklist instead.
Verifying your IMEI Status
The previous two recommendations are not that effective, they can help you have a clearer idea of what you could be dealing with, but the only effective and concise way to verify your IMEI status is either contacting your carrier and asking them (only possible if you are the original owner of the phone) or using online IMEI checkers. 
IMEI or blacklist checkers help you as the name says to check blacklist reports of your specific IMEI number so that you know if your cell phone is blacklisted or not. These online websites can give you this information in a matter of seconds and are free to use! if your device is blacklisted, you will know it right away.
How to Remove my IMEI Blacklist Status without Contacting the Carrier
Contacting your carrier for them to unlock your phone is possible, but if you are not the original owner of the phone you'll be unable to make the unlocking request (which is the case for most people who bought used phones). Now, the solution to this is really simple, ESNDoctor is the perfect online unlocking process and will help you with your device (blacklisted in the US or any other part of the world, it doesn't matter).
To use ESNDoctor's unlocking service you don't need to present any documentation and it's okay if your phone is second-handed. However, there are still a few pieces of information our system will require for you to get started, here's the list of what you will need:
You will need to enter your name and a working email address (make sure it is valid and you have access to it).
The IMEI number of the device to be unlocked (you can find your IMEI on your phone's specifications or by dialing *#06# from the Vivo phone, it should also be printed on the phone's SIM card tray).
The brand and model of the device (in your case, the brand is Vivo, and you can find your phone's model on your device specifications).
After you have this information ready, please visit ESNDoctor.com (or scroll up to the top of this page) and click on the "Unlock your Phone" button and enter the information mentioned above on the form you see on your screen and follow the instructions, it won't take you more than 10 minutes!
Is it Safe to Clean my IMEI with ESNDoctor?
ESNDoctor's development team has made sure the whole process is safe for you by implementing certain security measures that will make you feel protected. The very first one is that we don't ask you for more information than the basic data we need, you don't even have to enter your ID, any password, or any other PII (Personal Identifiable Information).
In addition, our system has implemented a verification process to protect your data so that we make sure it's you the individual placing the unlocking request, and as soon as the process is finished, we eliminate from our platform all the information of your case.
Why Remove Blacklisted Vivo Phone's IMEI Number with ESNDoctor
One of the principal advantages that come from using our blacklist removal services is that our software is compatible with every mobile phone, this means that you won't have any problem unlocking your Vivo, Motorola, iPhone, Samsung, or any other handset as long as it is a cellular device. However, there are other great benefits such as:
Our service is free.
The program is easy to use.
Since this is an external unlock, it doesn't matter if you have pending bills with your carrier.
It will only take you a couple of minutes.
ESNDoctor offers permanent unlocks.
The program works for both GSM and CDMA networks.
What is blacklist in Vivo Phone?
The blacklist on Vivo devices is the same as any other Android or iOS phone, this technology is universal and it doesn't change regardless of the brand of your device, carrier, or the country where you purchased the device.
How can I remove the blacklist on my Vivo phone?
If you wish to remove the blacklist from your Vivo phone, you can take two different paths, the first one it's submitting an unlocking request directly to your carrier. The second one is to use an Online tool called ESNDoctor which takes care of the whole process.