Are you tired of being stuck with a blacklisted LG device? Say goodbye to frustration and hello to freedom with ESNDoctor! This top-notch tool is the best choice for removing a blacklisted device because of its efficient and reliable method. In just a matter of minutes, you can restore your device's full functionality, allowing you to use it on any network without any restrictions. With a user-friendly interface, a 99% success rate, and affordable pricing, ESNDoctor is the perfect solution for anyone looking to break free from blacklist woes. Get your device back in action and experience the ultimate peace of mind with ESNDoctor.
Permanent and Safe Unlocks
Looking for a safe and permanent solution to remove the blacklist on your LG phone? Look no further than ESNDoctor! With its trusted and secure method, you can say goodbye to the hassle and frustration of a blacklisted device. The ESN cleaning process is performed with precision and care, ensuring a permanent solution that will allow you to use your phone on any network without any worries. Trust ESNDoctor for a safe and permanent solution to your blacklist woes. Say hello to a fully functional device and peace of mind!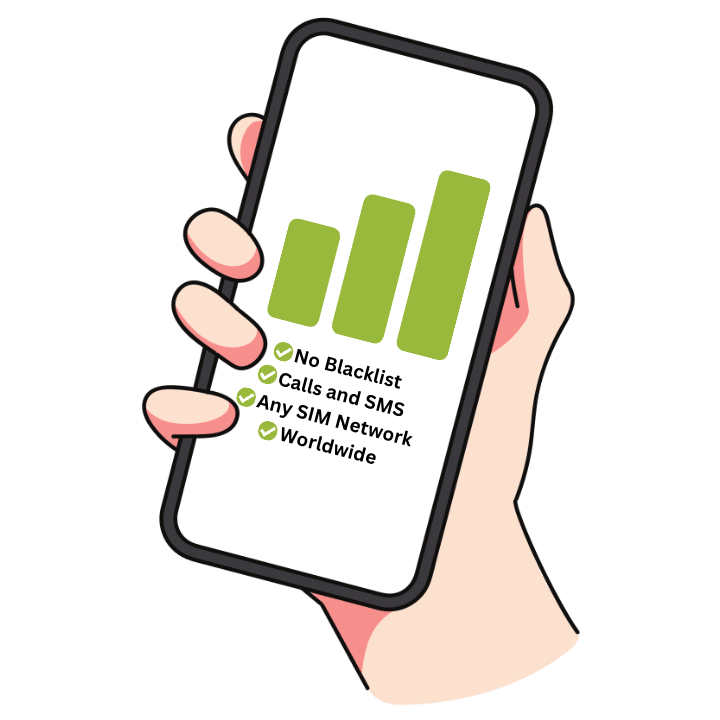 According to ratings from LG consumers, the brand LG is ranked #398 out of the top 1000 global brands, which doesn't make them one of the most popular ones but still gives the brand a sense of reliability. If you have a blacklisted LG device, don't let it go to waste! With ESNDoctor's IMEI report removal tool, you can remove blacklisted LG devices from the blacklist database in minutes and get to use your phone normally!
Is the bad ESN the same as the bad IMEI?
When people talk about having a bad IMEI or a bad ESN, they are referring to the exact same situation: a blacklist report. The only difference is that the number registered on the blacklist report will be one or another depending on which code (IMEI or ESN) is on the device that is being reported. The IMEI (International Mobile Equipment Identity) and the ESN (Electronic Serial Number) numbers are pretty similar; in fact, both are unique codes used to identify a mobile device.
What Determines Which Radio Frequency (GSM or CDMA) Uses My Phone?
Some people think that it has to do with the device's brand (like it changes depending on if you have an iPhone or an Android phone). However, the reality is that your smartphone has been assigned one or another depending on its network type, and all manufacturers launch devices compatible with GSM networks, CDMA networks, or both radio frequencies. Anyway, nowadays this topic is not that relevant because most devices have IMEI numbers because they use LTE (Long Term Evolution) technology.
How Can you Tell if your Phone is Blacklisted? IMEI Checkers!
If your phone is not able to make or receive phone calls, send or receive messages, or use mobile data no matter which SIM card you enter into the device, then the phone might be blacklisted. However, if you want to confirm whether your smartphone is in fact blacklisted or just has connectivity issues, there are online platforms that give you a full report of your blacklist status instantly.
These platforms are called IMEI checkers, and there are tons of them on the internet. If you want to run an IMEI check, all you have to do is look for "IMEI checkers" on the internet, select the one of your preference, and enter your IMEI number (remember that this service is free to use, so make sure you are not getting charged for this).
What Information is Included in an IMEI Blacklist Check?
Your phone's original carrier (like AT&T, MetroPCS, T-Mobile, etc.).
Whether your mobile phone is blacklisted or not.
The status of your phone's warranty.
If your phone is reported lost or stolen (and in general the reason for the blacklist report).
Your device's specifications (including manufacturer, model, and whether it works with GSM or CDMA carriers).
Is it possible to get Blacklisted Phones Unlocked?
Yes! Nowadays, a blacklist report can be easily removed. You can contact your original network provider (the cellular network company that locked the device) and request an unlock, or alternatively, you can also use our easy-to-use unlocking program. Here we'll explain both options a little better so you know how to proceed.
What do I Need to Unlock my Phone with my Carrier?
If you decide to go this route, you will need to contact your carrier's customer service support team (we would recommend that you go in person because, via email, it can take more than a week). However, keep in mind that you will need to meet certain requirements, such as:
You must be the original owner of the device.
You will need to present your ID and proof of ownership.
You need documents to prove that what is stated in the blacklist report is wrong.
If the device was reported stolen, you'll need to remove the report and state that you found it.
If your phone was blacklisted for non-payment (you stopped paying the installments for the financed phone and still owe money to the carrier), you need to get your account up to date.
How to Unlock my device with ESNDoctor?
If your phone cannot be unlocked with the official or traditional method because you bought a refurbished or second-hand phone and the carrier won't help you, don't worry! You can still use ESNDoctor's unlocking tool to remove the blacklist report from your phone for free.
All you have to do is scroll up and click the button in the top right corner that says "Unlock Your Phone." Then it will be just a matter of following the instructions for our automated program to remotely unlock the device so that you are able to continue to use your smartphone as you wish.
Why Should you use ESNDoctor's Blacklist Removal Unlocking Services?
There are plenty of reasons why ESNDoctor is the best unlocking tool to use when a phone has a bad ESN or bad IMEI, here's a list of some of the principal benefits we have for you:
Our unlocking service is 100% free (unlike other unlocking services from companies that manage high prices and hidden fees).
No matter if you bought a phone from a private seller and the used phone happened to be blacklisted (you don't need to be the device's original owner to use our online tool).
ESNDoctor's unlocking program doesn't have to be installed on your phone or any other device, the process is 100% online.
The unlock will only take you 10 to 15 minutes!
Our platform is very easy to use, you don't need special technical skills to remove the blacklist block from your LG phone.
ESNDoctor has high compatibility with all cellular devices, regardless of their brand or how expensive they are, so no matter if you are trying to unlock a new iPhone or an old LG model, or any other device, you can still make use of our unlocking software.
What Information do I need to Clean my LG's Blacklisted IMEI?
To unlock the IMEI number of the phone that is blacklisted with ESNDoctor, you don't need to present any documents or meet any conditions; there are just some key pieces of information that our software will need in order to proceed with the unlock. To be able to use our unlocking platform, you will need to enter:
Your full name (or the name of the phone's buyer).
A valid and working email address (make sure you have access to that email address).
The IMEI or ESN number of the locked LG device.
The model of your LG device.
After Unlocking my IMEI number, can I use any Wireless Carrier Network (Sprint, Verizon, etc,)?
ESNDoctor's unlocking software will completely eliminate the blacklist report and will remove the lock on your phone, so if your device doesn't have any other locks or internal damage that could stop it from operating as normal, it will perform perfectly fine and will read any SIM card you enter into it. Here are some of the principal reasons why you could experience any connectivity issues after removing the blacklist report from your LG device:
Damage on your SIM Card Tray
If you are inserting a SIM card into your device and the phone is not recognizing it, please make sure the SIM card tray is not broken and fits into the phone (remember that if it is damaged, you can simply buy another one; those are not expensive). Also, it is always a good idea to check that the SIM card being entered is in good condition.
Carrier or Network Lock
A carrier lock (also known as a SIM lock or network lock) is a restriction that your original carrier may have enabled on your device that only allows you to use their specific network. Carriers do this so that they can keep their customers using their mobile services (because most people with this lock on their phone don't know how to unblock it or switch carriers).
To confirm if this is the case, just enter a SIM card that corresponds to the carrier that sold the device (or to which you registered the phone when you purchased it); if the phone is able to read the SIM, it means that your device is no longer blacklisted but that you'll need to remove the SIM lock with a SIM unlock code.
How does a phone's IMEI number get Blacklisted?
Any phone can get blacklisted for a variety of reasons ranging from unpaid bills to simply being reported by the owner. There are many reasons why you might have a phone with a bad IMEI, the best way to check it's to contact the carrier or use any Online tool.
What Can You Do With Your Blacklisted Phone?
A blacklisted phone usually means that there are restrictions to accessing the network, this will not allow placing calls, sending messages via SMS, or using your data. With this in mind, you will be able to use apps and use your phone normally,
Is there a way that you can get around the blacklisting?
You can unlock your blacklisted phone by contacting the carrier and requesting an unlocking if you are the original owner. If you don't have the means or the time, you can use ESNDoctor allowing tool where we will take care of this process step by step.