ESNDoctor is the best way to remove your phone's blacklist status because of its proven track record of success. With a team of experienced technicians, and a commitment to customer satisfaction, ESNDoctor has helped countless individuals restore their devices to full working order. Whether you're dealing with a lost or stolen device, or simply need to remove a blacklist status, ESNDoctor is the solution you can trust. So why wait? Get your phone back to its best today with ESNDoctor!
Permanent and Safe Unlocks
ESNDoctor is the safest tool to use when removing your phone's blacklist status. With its secure and encrypted services, you can be sure that your personal information is kept safe and confidential. Additionally, the team at ESNDoctor uses only the latest technology and techniques to ensure that your device is not only blacklist-free but also protected from any future issues. So, if you're looking for a reliable and safe solution to your blacklist problem, look no further than ESNDoctor! Trust the experts and enjoy peace of mind knowing your phone is in good hands.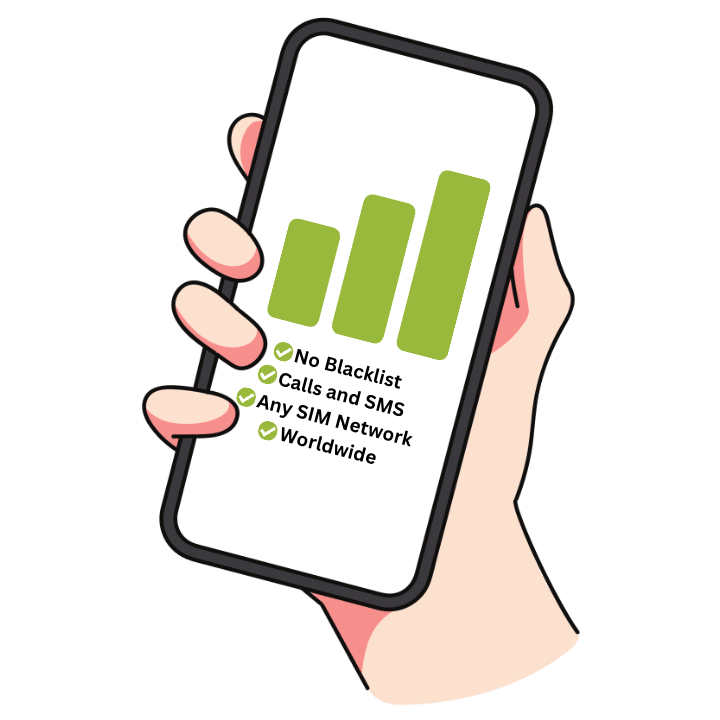 Xiaomi is a company that originated in China and is dedicated to developing mobile equipment and electronic devices in general (such as computers, tablets, televisions, etc.). The Chinese company has had extremely quick development in the smartphone market, virtually catching up to other top-tier manufacturing firms.
Redmi, Redmi Note, Redmi Pro, Poco, etc., are one of the numerous mobile phone models that Xiaomi has released. These phones have gained popularity for being reasonably priced and of high quality, making them some of the best available in many markets.
But what happens when a Xiaomi device is blacklisted by its carrier? Is it possible to remove blacklisted Xiaomi devices from the blacklist database? Let's discuss this and see why ESNDoctor is the best unlocking tool to unlock your IMEI online!
Why would a Phone be Reported to the International Blacklist Database?
A blacklist report is a report made by mobile operators or carriers to an international database called a "blacklist"; this report is made using the IMEI number of the device to be blocked and restricts its connectivity functions (it cannot be used to make or receive calls or messages). Blacklist reports are usually made for three main reasons:
The phone was reported as lost or stolen by its legitimate owner.
Lack of payment or outstanding installments of debt with the operator by the device's original owner.
Fraudulent transactions or illegal activity associated with the purchase or usage of the equipment.
These reports are part of an international agreement (with which approximately 40 countries collaborate), so the blacklist database works globally and numerous mobile service providers constantly register and submit reports to it.
Why are Network Providers able to Blacklist my Xiaomi Phone?
Network providers are the ones in charge of reporting devices because it is more practical that way. To understand this, it is necessary to take into account that when you buy a smartphone (no matter if the purchase was made with the carrier, directly with the manufacturer, or with another seller), you need to register the device with your mobile operator because otherwise the device's IMEI will be locked. 
So from the beginning, when you acquire a new device (no matter if it is a Xiaomi device or another smartphone) the carrier is the one that knows which specific device you have and has all your information on file. In addition, when a phone is lost or stolen, the very first call people usually make is to their carrier so that they can lock the SIM card.
All in all, we can say carriers are able to blacklist devices (only the ones registered with them) because that is the fastest and most functional option when it comes to making reports to the blacklist database (they already have all the information about which device is under which user's name and are the first ones being notified when something happens to the device). 
What do I Need to Unlock my Phone with the Carrier?
If you want to ask the carrier to remove the blacklist lock you will need to present certain supporting documents and meet certain conditions for them to authorize the elimination of the report that include but are not limited to:
You need to be the original owner of the blacklisted smartphone (you may need to present an ID).
You'll need to present the phone's receipt or proof of ownership.
You need to be in good standing with the carrier.
If the device was financed with the carrier you'll need proof statements of no balance due (and in most cases, the phone has to be already completely paid).
If you reported your phone as lost or stolen, you'll need to remove the report.
How do I Check the IMEI status of my Device?
There are online platforms that you can use to get a full report of your Xiaomi device's IMEI status, the process is completely free and only requires your IMEI number (because they get your IMEI status using precisely your IMEI number).
There are lots of websites that offer this service (like IMEI24, IMEI.info, or IMEIcheck, among others), all you need to do is to search "IMEI checker" on Google or any other search engine and you'll see a list of recommended websites (just click on the one of your preference and you will be linked to the platform).
With this process, you will get to verify your IMEI status and receive relevant data such as:
Whether your phone is blacklisted or not.
Which is your smartphone maker or manufacturer (Xiaomi, Huawei, Apple, etc.) and will include some device specifications (model, OS version, original carrier, etc.)
The reason why the device has the blacklist restriction.
How to Find the IMEI Number of your Xiaomi
If you check the back of the original box of your Xiaomi, you will find some barcodes and both the device's serial and IMEI numbers.
Go to your device's phone app (the one you use to make calls) and type *#06# on the dialer pad. The IMEI of the device will be shown on your screen.
Go to the settings of your Xiaomi and type "IMEI number" on the search bar; the IMEI number will be shown on your screen.
Is it Legal to Change the IMEI Number of a Blacklisted Smartphone?
Changing a blacklisted phone's IMEI number is one of the first ideas that come to people's minds when dealing with this situation, but the carrier denied their unlock request. However, although it is possible to change that code, in most countries around the world — including the U.S. — it is not legal to modify the IMEI number that your manufacturer assigned to your mobile phone.
Because of processes like this, there are sanctions (you could face serious legal issues because of government blacklist regulation laws) and there are also certain consequences for the device's performance itself such as:
The phone won't receive OS updates anymore so all the bugs on the system will stop being fixed and the device's current technology will sooner or later become useless (usually after a year or two).
If the carrier finds out you changed your IMEI they will blacklist the new IMEI and will notify the authorities.
You will lose every warranty, insurance, and in general, any coverage that your device had. This is because your new IMEI won't match the number registered when the phone was purchased.
You can completely damage your device because the process is not safe as you will be messing with the factory settings of your cellular device.
Changing your IMEI Number vs Unlocking it with ESNDoctor
Some key differences make our unlocking tool 100% better than an IMEI change, here are two of the principal aspects that make unlocking your phone with us such a great solution for you.
Unlocking your phone's IMEI number is Safe
Contrary to what happens with an IMEI change where you can completely damage the phone, unlocking your phone with ESNDoctor is completely safe! The process won't affect the device's performance, it will receive OS updates as normal, and you will still have access to all the features and functions of your Xiaomi.
With ESNDoctor you keep your Phone's Warranty
When you change your IMEI number you lose any kind of coverage that the device had, but the good news is that as ESNDoctor doesn't modify your IMEI number, you get to keep your factory warranty and any insurance that your device has (that's one of the great advantages of cleaning your IMEI instead of changing it).
How do I Use ESNDoctor's Online Unlocking Software?
Our unlocking platform won't take a lot of effort, all you need to do is to visit ESNDoctor.com, click on the button that says "Unlock your Phone" (located on the top right corner of the screen), and then fill out the form for the system to start the process.
After sending or submitting the request it will all be a matter of following the instructions, remember that you don't need to install the program on your device and that there are some tutorial videos in case you have any doubts.
Why is ESNDoctor the Best Unlocking Option?
Cleaning your IMEI number has never been easier thanks to ESNDoctor; our unlocking program is the ultimate solution to fix the IMEI number of your Xiaomi! Here are some of the principal aspects of our unlocking service that make it the best one on the internet:
Our service is completely free and easy to use!
Unlocking your phone will only take 10 minutes.
The system allows you to permanently unlock devices from any manufacturer.
You don't need to share with us a lot of information, just your IMEI, email, name, and device type is enough.
How do I know if my phone is blacklisted?
Having a blacklisted IMEI sometimes can be hard to detect, this issue is very similar and affect almost the same matter as having a carrier-locked device. The best way to know if your phone has been blacklisted is to use any Online database, all you need it's your IMEI number. Feel free to use any of the tools that are available on Google, we recommend checking at least 2-3 tools as this information is open and it's not always updated.
How do I remove one from the blacklist?
The two most common ways to remove your IMEI from the blacklist are by requesting an unlock through your carrier, the second most common method it's to using a third-party tool. Make sure to check all the policies and requirements of your network provider before submitting your request. If you don't want to deal with any of that or you simply don't meet all requirements, you can use ESNDoctor unlocking tool, an easy and safe way to do it.