Permanent and Safe Unlocks
ESNDoctor provides a permanent and safe solution to blacklist issues, ensuring seamless online experiences, enhanced security, and lasting peace of mind.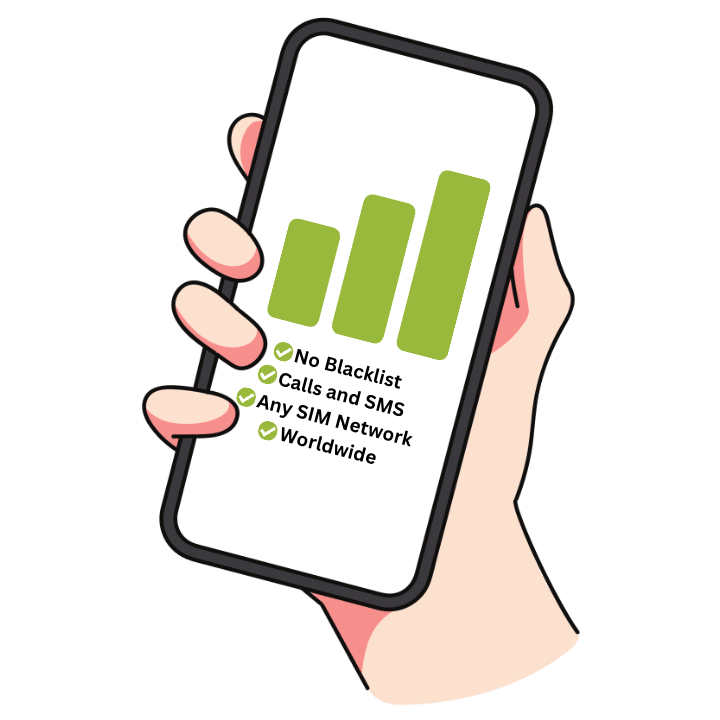 It's hard not to like Oppo smartphones. They initially concentrated on having the best smartphone camera when it first hit the marketplace, and since then, it has maintained the brand's quality standards.
Users tend to like Oppo a lot because they started making phones at all price levels, and even their budget smartphones are excellent. That's why it is such a shame to lose an Oppo device just because of a blacklist report, but this is not a problem anymore thanks to ESNDoctor!
Learn in this article how to remove the IMEI report from the blacklist of your Oppo smartphone and access all its features again as if it were never blacklisted.
Why can Chinese brands like Oppo be blacklisted?
Even though Oppo is a Chinese brand and that country is not part of the international blacklist consensus, Oppo devices can be blacklisted because they are marketed in countries that are part of it (like the US). Manufacturers that want to enter a country's market must adapt their handsets to the country's regulations so that all merchants can sell them, and this includes enabling the blacklist lock so that carriers can activate it if needed.
In addition, all smartphones regardless of their brand or model must have an IMEI number, this applies to all countries and all cellular devices, so putting or removing a blacklist report is easy for all mobile operators because it is just a matter of registering the IMEI number of the handset on the blacklist global database.
Unlocking Alternatives for People with a Blacklisted Oppo
The first and official option is to ask your carrier to remove the IMEI number on your Oppo from the blacklist. However, there are certain conditions that you better keep in mind, we'll explain them below).
You can change the IMEI number of your device, this won't remove the report but if it works, it can remove the lock of your phone (However, we strongly recommend that you read the disadvantages of this method first because it's a pretty risky method, we'll talk about it later).
The third and best option is to use ESNDoctor's professional unlocking platform to be able to remove the report and the lock on your phone in just a few clicks, check more info about Oppo device's unlocks below!
How Feasible is it to Contact the Carrier and Request an Unlock
Contacting the network provider to ask them to remove your Oppo's IMEI number from the blacklist database is possible, but since the blocked number had to have something to do with a lost or stolen report, they are going to take the case seriously and will take their time to check the request.
In addition, you'll need to present certain documents to prove your phone was mistakenly added to the blacklist and that the allegations on the IMEI report are not valid — for example if it was for a lost or stolen report you'll need to prove you are the original owner of the phone and show proof of ownership —.
Some of the most common requirements are, that you must be the legitimate owner of the phone, you'll need to have proof statements of no balance due, an ID, the receipt, and some others depending on what was registered on the report.
Can Oppo Mobile Remove IMEI Numbers from Blacklist Reports?
One might assume that Oppo as the manufacturer of the device can help you with a lock that is so complex to handle, but the reality is that only mobile operators can unblock IMEI numbers and remove them from the blacklist database.
Is it Better to Remove the Blacklist Report or to Change the Phone's IMEI number? 
As we were mentioning, changing your Oppo's IMEI number is a possibility but is not recommendable because of how risky the process is. If you are interested in changing the IMEI number in Oppo or any other cellular device, there are various Youtube tutorials that you can use to guide yourself, but before you do that, we'll list the disadvantages that come with a modification like that.
You will Lose your Phone's Warranty and OS Updates
When you change your Oppo's IMEI number you lose all kinds of warranty or protection that the device had because its IMEI won't coincide with the one on record, in addition, taking into account that by logic Oppo (as all other manufacturers) only send Android OS updates to the devices they have manufactured, you will stop receiving updates and the device will stop working sooner or later (newer versions of Android will be launched and yours will become outdated).
Changing your IMEI is Illegal in the US
Even though it doesn't say so on the advertising of IMEI changing platforms, modifying or deleting numbers used to identify mobile devices from their factory settings is illegal (this applies to both IMEI and ESN numbers). If any mobile operator identifies any irregularity (and they'll probably do) they will report that to the authorities and will blacklist again the new IMEI number of your phone.
You can Completely Damage the Mobile Device
Keep in mind that the IMEI number is assigned by the manufacturer and is part of its factory data, and smartphones are not designed to support changes to their factory settings, so a modification like this can completely damage the phone. If you still want to try this we would suggest that you call a specialist (don't hesitate to contact someone that is an expert on the matter and don't do this by yourself or with a friend, these changes can render the device useless at all).
Can an Oppo Find 7 be Unlocked with ESNDoctor?
The Oppo Find 7 is one of the best-known and best-selling references of the brand, but yes, it can be easily removed as our software access blacklisted numbers on the global database and eliminates the report, so regardless of the phone's brand or model, as soon as the report is removed the lock itself is also eliminated.
That is the reason why ESNDoctor's program counts on such an exceptional compatibility level with all cellular devices, but that is not the only advantage that comes with this blacklist removal software.
Find Out more about Oppo Unlocking Process with ESNDoctor
No matter which carrier added your IMEI number to the blacklist, it can be unlocked.
Our service is 100% free!
The platform is easy to use and the instructions are pretty clear (you don't have to be tech-savvy to use the program). Indeed, there are tutorial videos available in case you need them.
The only key piece of information we require is the IMEI number to be unlocked.
The process will only take you 10 or 15 minutes.
You don't have to download or install anything on the device (APK files or apps from the Play Store), everything is 100% online.
How to Remove your Blacklisted Oppo Device from its IMEI Report
Removing the blacklist report from your Oppo phone is very easy, just visit our official website (or scroll up until you reach the top of this page), and click on the button located in the top right corner that says "Unlock your Phone". You'll see a short form where you are asked to:
Your name and your email address.
Select the device type you want to unlock (If you selected the wrong brand, simply uncheck the option and select the right one).
Enter the phone's IMEI number (you can get it by going to your phone's settings and typing "IMEI number" on the search bar or by dialing *#06# on your dialer pad).
After you initiate the unlocking process it will be a matter of following the instructions on the screen, you will be asked to complete a verification process and to wait some minutes while the software removes the IMEI blacklist on your Oppo phone.
At the end of the process, you will receive a confirmation email and some instructions for the device to process the unlock (normally you are just asked to restart the phone) and that's it. Anyway, what we do recommend is that you have a SIM card handy (doesn't have to be from a specific carrier) so that you can test the unlocked device, if you can place calls and send/receive messages as normal it means that the process was successful.