Remove Motorola Blacklist
Unblacklist your Motorola
Unlock the full potential of your device with ESNDoctor's innovative online solutions. Say goodbye to long wait times and complicated processes. With just a few clicks, you can remove the blacklist lock and enjoy your phone's unrestricted capabilities. Our user-friendly and efficient service is available for all models and countries. Experience the ease of unlocking with ESNDoctor today!
Permanent and Safe Unlocks
Unlock your device with confidence using ESNDoctor. Say goodbye to temporary and risky unlocking methods. Our online solutions guarantee permanent and safe unlocking experiences. Your internal software stays intact and your warranty remains valid. Trust ESNDoctor for all your unlocking needs and enjoy a hassle-free experience today!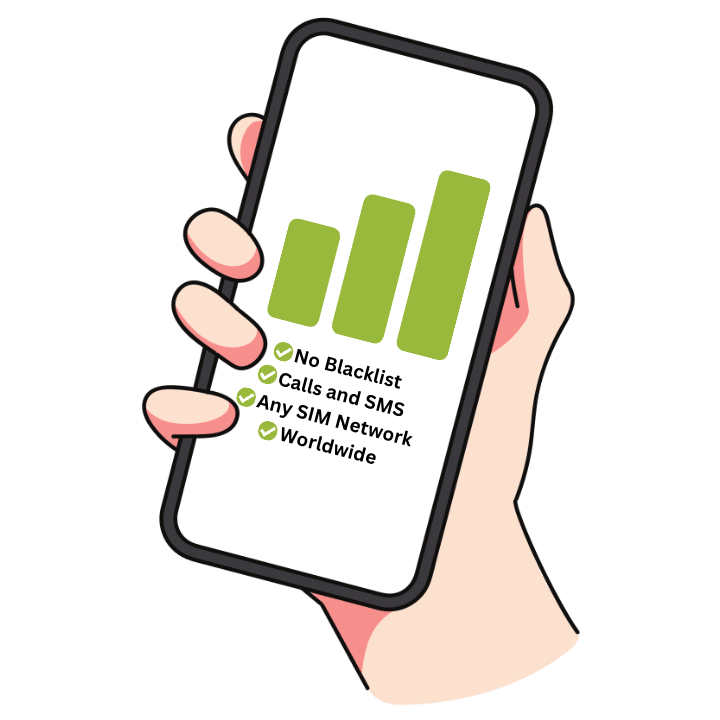 Motorola devices are not as well known as Samsung or Apple devices (which have a great reputation and are considered top-of-the-line smartphones). However, Motorola is a brand that has been on the market for so long and their handsets are reliable, so if you have one of these but unfortunately it was reported, we've got your back! Get to know how to remove blacklisted Motorola devices from the IMEI blacklist database in just a couple of minutes!
IMEI Checkers: Verifying the IMEI Blacklist Status of your Device
If you want to make sure your Motorola device is blacklisted, you can verify the phone's IMEI status with an online IMEI checking service. This service is free, easy, and only takes a second to give an account of your IMEI status; all you need to do is search "IMEI checker" on Google and select the option of your preference, remember that you will need to enter your phone's IMEI number for the online platform to process the request.
What Happens to a Phone when it is Blacklisted?
When a phone is blacklisted, two things happen: your name and IMEI are reported to the international blacklist database so that all carriers are notified of whatever situation went on with your device, and a lock is enabled on your Motorola phone so that you cannot get connected to any network no matter what SIM card you enter into it.
This lock is meant to not let you make or receive calls or SMS messages, use your mobile data, or, in general, do anything you would with a cellular device (which is get connected to cellular networks or radio frequencies).
How long does a phone stay blacklisted?
When a phone is reported lost or stolen (or is blacklisted for any other reason), its blacklist status is permanent. This is the same for Motorola, Apple, Samsung, and all devices, and for reports made by any network, but this doesn't mean you won't be able to use your phone anymore; you can still use it if you contact the original carrier and ask them to unlock the phone (keep in mind you need to be the original proprietary of the handset and need proof the phone was not stolen and everything is in order), or you can unlock the device with ESNDoctor.
How do I Check the IMEI Number of my Motorola Phone? 
An IMEI number is the term used to describe the serial number of your Motorola mobile device and all other smartphones, including every Samsung, iPhone, Xiaomi, etc. Your phone's IMEI (International Mobile Equipment Identity) number is a special and unique 15-digit code that is very important to verify the blacklist status of your phone and to unlock the device in case you confirm it is reported.
There are some principal methods to find the IMEI of a phone, regardless of its brand or model, and here we'll show you the easiest ways to do so. Just follow the instructions, and you will know your IMEI number in a couple of minutes.
Find your IMEI Dialing
You just need to open your device's phone app and dial *#06#, the IMEI number of the mobile phone will appear on a black screen along with some bar codes, just take a screenshot and then write it down.
Find your IMEI Using your Settings
In all Motorola devices, if you go to your settings app and click on the "About Phone" tab, and then click on "IMEI", you will be able to see the 15 digits of your IMEI number. 
Find your IMEI on the External Part of the Phone
You can check on the back side of your phone to see if the IMEI is printed there, if not, it will most likely be on the phone's SIM card tray. Another option is to check the original box in which the device came in (there's always some information about the handset printed there).
If a Phone is Blacklisted in the US, Can I Use it in other Countries?
Technically, this should not be possible because the blacklist database is an international one; it's not like each country has its own blacklist, but there is an international one, whereas all countries and all carriers (GSM, also known as GSMA and CDMA) report blacklisted devices so that all other carriers know that a specific IMEI number has been banned (because it was lost or stolen, there were unpaid bills, etc.).
However, a lot of people can use the device if they are not in the country where it was blacklisted, so if you purchased a second-hand device that came locked and you have the opportunity to send it to a family member (or someone who wants to buy it for a good price) far away, they might be able to use it without a problem.
The only disadvantage is that if the mobile operators with coverage in that foreign area find out the phone is blacklisted, they will blacklist it again in that country, and you won't be able to connect to the network. All in all, it seems unnecessary to worry about this because you can simply unlock the phone with us and enjoy a network connection anywhere.
What can I do if my Phone is Blacklisted?
Use its non-cellular features (connect it to a WiFi network and download apps and use your browser).
Sell it to someone in another country (explain first that the phone is blacklisted so that they are aware in case it doesn't work).
Change its IMEI number (not recommendable because it's illegal and will damage your phone).
Contact your carrier for them to unlock it (only possible if you are the original owner and can prove wrong the carrier's allegations on the report).
Unlock your phone with ESNDoctor (Safe, fast, easy, and free. We'll explain more later).
How to Unlock a Phone when it was Reported Lost or Stolen
As we were mentioning, to unlock a phone, you can either contact the original carrier (T-Mobile, AT&T, etc.) and ask them to unlock the device or unlock it with ESNDoctor's unlocking software. It is necessary to take into account that you'll need to be the original buyer of the device and that they can't unlock the phone if you don't have enough documentation to prove that the phone reported as lost was not stolen or that it was fully paid, etc.
In general, you will need to dispute the information on the report so that they can verify your claim is right. If you already tried but were not eligible, have a second-hand device, or don't want to invest days in this unlock, the alternative is to use ESNDoctor's services to fix the problem and clean the blacklisted IMEI, but how does ESNDoctor's unlocking process work? Let's see what the steps are to get blacklisted devices cleaned in minutes.
Step 1: Submit the Order
After you visit ESNDoctor's official website, you'll need to enter the following pieces of information:
Full name

Your email address (Make sure your email is valid and you have access to it.)

Device Model (Android and iPhone are eligible)

Device IMEI number (International mobile equipment identity)
Before submitting anything to the system, double-check all of the information since we cannot be held responsible for orders that contain incorrect information. If you are unsure of how to retrieve your IMEI, please scroll a little bit up on this same article to find the methods we've explained.
Step 2: Activate the Order
We have established a procedure where the end-user (in this case, you) has to go through a fairly simple activation procedure in order to prevent unauthorized use by users or duplicate queries. This is why you will need to go to your email and follow the instructions to activate your order (remember that there is a tutorial video available if needed).
Step 3: Wait for the System to Process the Order
Now you will just need to wait a couple of minutes until the system finishes repairing your locked device and removing the blacklist reports. Sometimes this takes 10 minutes and other times it takes 15 minutes (it depends on how stable your internet connection is), but in less than half an hour you will receive a confirmation email for you to restart your phone and test the device. Congratulations! At this point, your phone will already be unlocked.
How do I remove my number from blacklist on Motorola?
If you want to remove your phone from the blacklist, you can request an unlocking code from your phone company, you're only entitled to this if you meet all the criteria your carrier asks. You can also try a third-party service such as ESNDoctor which take care of the whole process for you.
Why is my phone showing blacklisted?
If your phone is showing that it has been blacklisted, it is likely it was reported by either the original owner or the phone company. There are instances where they can also lock your phone for the misusage of their network, regardless of the reason, contact your provider to know the exact reason why your phone got blacklisted.
Is a phone blacklisted forever?
If it doesn't get unlocked, then it will remain blacklisted without any expiration date. This is to protect the user's data and discourage the market of phones marked as lost or stolen by the owners. We recommend you to unlock your device with ESNDoctor if you want to use it again.