Sprint is one of the better-known telecommunication companies in the United States, it was acquired by T-Mobile network and discontinued a couple of years ago, but is still operating under the T-Mobile brand.
If you have a reported Sprint phone, ESNDoctor's free Sprint IMEI unlock software is the ultimate solution to completely eliminate that restriction in minutes.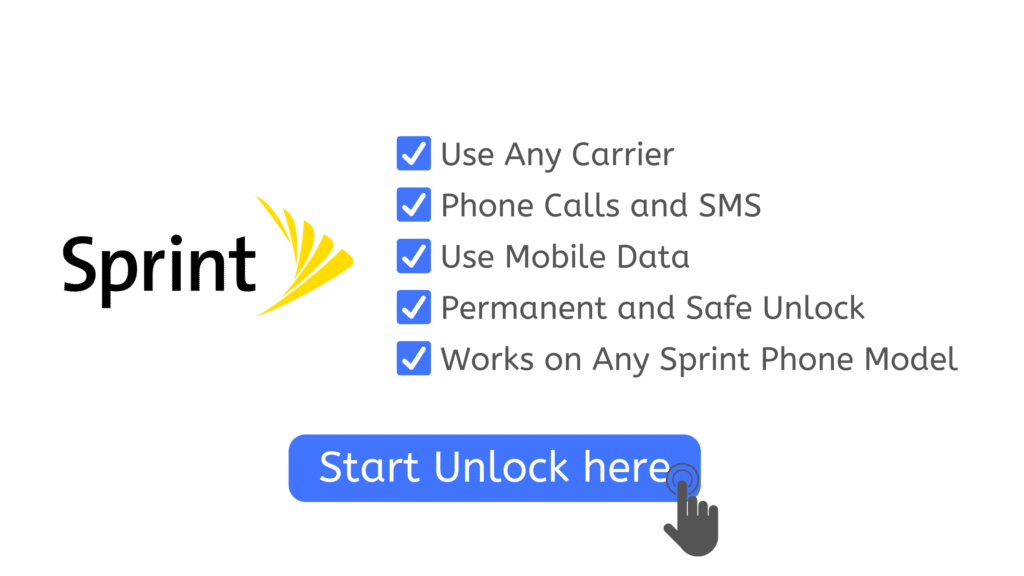 Are "blacklisted" Phones and "Bad" IMEIs the Same?
There are different ways to refer to a blacklisted phone, you might hear some people call it a reported phone or a phone with a bad IMEI, but all those are referring to the same type of lock: an IMEI report that carriers (in this case Sprint) send to the blacklist international database to activate a connectivity lock on it.
This kind of report can be activated for different reasons, here are the three most common ones why phones are blacklisted.
The Sprint Phone was Reported Lost or Stolen
A lost or stolen phone can only be reported to the mobile phone service provider (Sprint) or perhaps to the local police department, and only the proprietary or someone with authorization is able to do so — when network providers receive reports of stolen devices, they ask for proof that the individual filing the report is the registered proprietor of the phone.
This is the principal reason why a phone is blacklisted, as a matter of fact, the blacklist database was created upon agreement among 44 countries in an attempt to fight the illegal usage of stolen devices.
The Owner of the Phone is not in Good Standing with Sprint
If the original owner of the device (the person whose name appears registered as the legitimate buyer of the phone) has passed due payments from their Sprint network mobile plan and has not answered the collections department calls to make an agreement or try to get up to date, the carrier will blacklist the device.
This can also happen if the original owner of the phone financed the device with Sprint (agreed to pay for it in installments) but then didn't fully pay the debt.
Fraud Investigation/Illegal Activity Associated with the Device
If the financial institution that generated the payment of the phone by the time it was purchased has declared there has been any sort of illegal or fraudulent activity related to that transaction (or if the carrier itself notices suspicious activity), the phone will be reported to the blacklist central until the corresponding fraud investigation is carried.
If they conclude that it was in fact any fraudulent transaction, the phone will stay permanently blacklisted (unless its original owner makes a dispute and proves no fraud took place).
How do I Know if my Sprint Phone is Blacklisted?
If you think your phone is blacklisted because you've been having connectivity issues but you are not sure, you can double check if you are dealing with a blacklist report with an IMEI checker or by calling Sprint directly, here is how.
IMEI Check – Online Platforms
Nowadays you can verify your IMEI blacklist status on a wide range of websites that offer you a full report of your phone's status for free and in a couple of seconds. Here are the three main (and safest) Webpages you can browse to see whether or not your phone is on the blacklist database and therefore locked:
However, it is fair to highlight that carriers or network providers are not legally required to publish any information related to blacklist reports and the blacklist database is not available for everyone, so even though an IMEI checker website can give you a full report of the information they have, the data may occasionally be out of date or inaccurate.
Contacting Spring's Customer Support Team
Sprint (like any other mobile carrier) has a customer service center for their users to ask any questions and to have support if needed, in this case, you can contact them to verify the blacklist status of your IMEI and even ask them to unlock it and provide a Sprint phone unlock code if you have the support to prove it was a misunderstanding.
Anyway, remember that they will only give you information if the device is registered under your name (you appear as the proprietor of that phone), so if you purchased a secondhand device and you want to look up its IMEI, they won't provide any information about its status.
How do I Find my IMEI number?
All cell phones have an IMEI code, and as you might have noticed at this point, the IMEI is a pretty important piece of information regarding blacklist reports. The IMEI of your Sprint iPhone will be required for any unlocking request no matter if you want to do it with Sprint (and assume all the waiting time, eligibility requirements, and paperwork to maybe have the request denied) or with ESNDoctor (and permanently unlock your phone in minutes).
Here are the easiest ways to find the IMEI code (applicable for all Sprint devices):
Many phones have the IMEI code printed on the original box in which the device came in, in the SIM card tray, or on the back of the phone (older devices have the IMEI printed above the battery).
Enter the code *#06# on your phone's dialer app, you will see a black screen with some bar codes and the IMEI of your Sprint phone.
You can access this kind of information with Sprint, you just need to log into your Sprint account (using your Sprint account number and password) and check your device's details, you should see the IMEI there.
Go to the settings app of your phone and look for the "about" tab, in there you will find information about the device including the phone's model, serial number, and IMEI.
Why is ESNDoctor the Best way to Unlock Sprint Phone Online?
ESNDoctor has the best unlock process online because:
All iPhone models supported
ESNDoctor can remove the blacklist report from any Sprint iPhone model regardless of its iOS version.
Fixes bad ESN and bad IMEI
When you have a blacklisted phone, it can have either the ESN or the IMEI number locked, both can be cleared without problem with ESNDoctor's fully automated unlocking app.
Safe and permanent unlocks
ESNDoctor unlocks your phone permanently and safely without affecting the device's performance (the Sprint phone will function like normal after the blacklist network unlock).
Security measures
Users' personally identifiable information is not collected or stored by ESNDoctor, and all interactions are encoded to prevent fraud or cybercrime.
Completely free unlocking process
With ESNDoctor you can unlock your Sprint phone without paying anything, this unlocking process is 100% free and there are no hidden charges.
International unlocks
No matter where you are located, ESNDoctor's unlocking service is available in all countries and can be used as long as you have a stable internet connection.
How to Unlock your Sprint Phone with ESNDoctor
Unlocking Sprint phones with ESNDoctor is very easy and only takes a couple of minutes, we recommend you have ready:
A working email address (make sure you can access it before starting the unlocking process).
Your locked phone's manufacturer (Xiaomi, Apple, Samsung, etc.).
Your phone's IMEI code (read the instructions above to find it).
To get started you will need to enter your name along with all this information on ESNDoctor's unlocking platform (fill out the form on the screen), after clicking on continue, you will be asked to complete an authentication process that includes the verification of your identity, remember that this is for security reasons as we aim to protect your information.
You will then need to activate the order placed by opening the link sent to the email address you entered (which is why we mentioned it has to be working and you need to be able to access it), this link will take you to a tutorial video that we recommend you watch before you resume the unlocking process.
At this point, you just need to wait a minute until the software processes the unlock request and removes the blacklist report made by Sprint/network provider, remember that ESNDoctor's unlocking service was designed to change the procedure depending on the type of device unlocks requested, so you might be asked to follow some extra steps depending on your phone's operating system and brand or manufacturer.