"Mint Mobile" is a prepaid wireless MVNO (mobile virtual network operator). Their service operates with T-Mobile's network towers (including 5G at no additional cost) and is very popular because they can guarantee T-Mobile's network coverage at lower prices. Also, they have some great deals, like getting 6 free service months if you buy a phone and pay for a 6-month plan.
If you have a blacklisted device from this carrier, our Mint Mobile IMEI unlock tool is the solution you've been looking for. Let's dive into how blacklist reports work and get to know all the benefits ESNDoctor has for you!
Why did my Carrier Lock my Phone? Do I need an Unlock Code?
Carriers use their users' IMEI numbers to register what is reported to them and act accordingly, that's the case of blacklisted IMEIs, the reason why the carrier reported your phone is that they were notified that the phone was either:
Lost or stolen.
Purchased through a fraudulent transaction.
Involved in any kind of illegal activity.
Unpaid or with pending past-due bills.
Of course, not all users with locked cell phones are necessarily related to the cases we have mentioned, for example, some people just:
Happened to purchase a second-hand device without knowing it was reported as lost or stolen (sometimes people sell their device and then tell the carrier it was stolen to get store credit or make effective some kind of warranty).
Were mistakenly reported by the carrier (remember that this report is made through the IMEI number, so sometimes there is a wrong number on the report and the wrong device ends up reported).
How do I Know if my Mint Mobile Phone is Locked or Unlocked?
Before you unlock your Mint Mobile phone it is good to confirm if the issue is really a blacklist report or if maybe you are just experiencing connectivity or SIM card issues. To do so, we recommend you to check your IMEI with the online and free IMEI checkers that provide a full report of your IMEI's condition including:
Whether it was blacklisted or not.
If it was in fact Mint Mobile the carrier that locked your device or another one.
Your smartphone's specifications.
The status of your phone's warranty.
You can find these IMEI checkers online just by searching them on Google, however, these are the most popular ones on the internet:
In addition, remember that each state has enabled a secure platform for people to enter their IMEI and see if it is reported or not, you normally are able to check up on an IMEI twice each day. If neither of those options works for you, you can always contact Mint Mobile directly to receive this type of information, only take into account that this is possible only if you are the original owner of the device (if not, they will be unable to provide you with any information).
Mint Mobile IMEI Unlock
If you want to have your Mint Mobile unlocked, you can contact the carrier and ask to show them proof that the blacklist report was incorrectly placed. However, to do so, you need to meet certain requirements: you have to be the person who purchased the phone in the first place (your name has to be on the contract), and you need supporting documentation for the customer service team to consider your request.
The problem with this option is that it is almost impossible to meet all their conditions because they require a lot of evidence that proves that the phone was not stolen (which is the most common reason why they unlock devices).
However, there is another option that can come up in the conversation thanks to ESNDoctor's unlocking software, and it's an external unlock with us as a third-party unlocking company that you can complete from your official page. Here, we will explain more about this.
Can you get a Locked Phone Externally Unlocked?
Now with ESNDoctor's unlocking tool, you can easily unlock your Mint Mobile phone in a matter of minutes. There are not as many requirements as when you use Mint Mobile's unlocking program, and you don't need to be the original owner of the device. As long as you contact us with all the basic information we need, you will receive back a fully unlocked device.
What do I Need to Unlock my Mint Mobile Phone Myself for Free?
All you need to unlock your device with ESNDoctor is to enter some basic data into our unlocking tool and follow some easy steps to activate your order and for the program to automatically eliminate the blacklist network lock. Here is what we recommend you have ready beforehand:
Your phone's IMEI number.
An active and working email address you are sure you have access to.
Your phone's manufacturer/brand.
Why Do I need my IMEI Number?
In fact, you need your IMEI number because all blacklist reports are made based on the IMEI number of the device to be blacklisted. This unique code is very useful for registration and organization purposes, so carriers use it for their international blacklist database and make sure the reporting process is easier and faster.
When you unlock any device, what you're doing is removing the IMEI number from that database, so knowing which code you need to eliminate from there is a key part of the process.
How do I Find my IMEI Number?
Finding your IMEI number is very easy and there are multiple methods to get it with and without the phone, all you have to do is to:
Enter the *#06# universal USSD code on your dialer, you will see a black screen with your IMEI number on it.
Depending on the manufacturer, there are certain ways to get your IMEI from your device's settings app. For iPhone you just need to go to settings >> general >> about, and scroll down until you see the IMEI.
Check the back of your phone to see if it is printed there (it usually is), if not, check on your SIM card tray or the phone's original box.
If you don't have your phone with you, you can get your IMEI by accessing your iCloud and looking at your phone information (for iPhone or Apple devices).
Benefits of ESNDoctor's Device Unlocking Service (Available for iPhone and Android)
ESNDoctor is the greatest online unlocking service as it offers one of the few unlocking programs that are compatible with Mint Mobile and offer a free service. However, this is not the only benefit that comes with our unlocking tools, here are other advantages that make it the perfect alternative for you:
ESNDoctor allows you to unlock any kind of device (at the beginning of the process you get to choose your phone's brand/manufacturer), you can unlock both iPhones and Android phones.
This is the safest unlocking method because you won't need to change your IMEI number (which could completely damage your phone) and all the information you enter on our website is eliminated as soon as the system receives confirmation that the unlock is completed.
You will save money because as we mentioned before, there is no payment required (the service is completely free).
ESNDoctor's unlocking tool is really fast and it also offers a really user-friendly platform so that you don't struggle with the unlocking process.
Simple Steps to Safely Unlock your Phone with ESNDoctor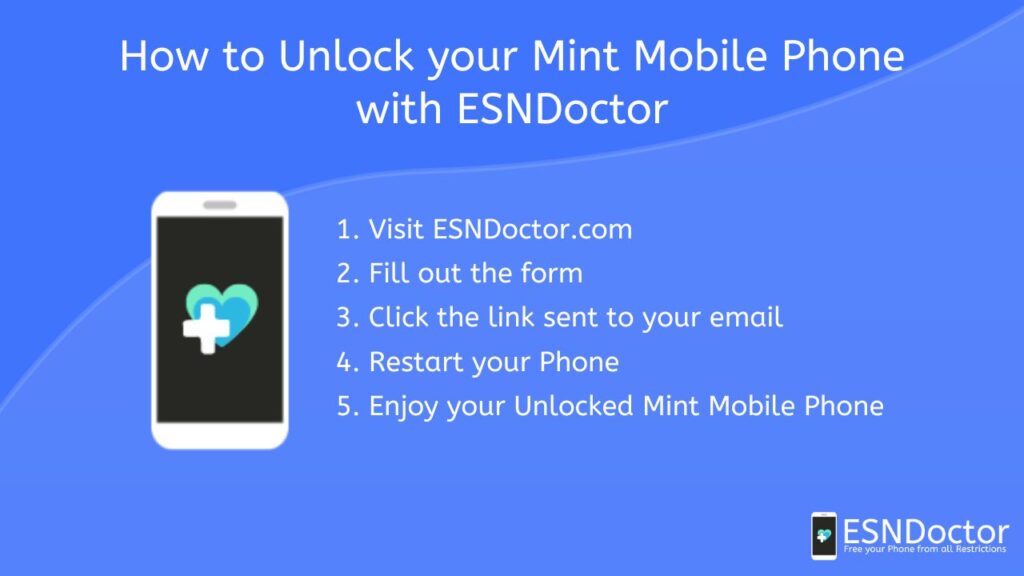 All you have to do to unlock your phone with us is to visit ESNDoctor.com and click on the "Unlock Phone" button, you will be taken to our unlocking tool for you to start your blacklist removal process by filling out the form on the page (in case you need it, there is some useful information about blacklist reports and our unlocking process on that same page, you'll just need to scroll a little bit down).
After filling out the form, you will just need to access your email address to activate the order by clicking the link sent to you and following the instructions to validate your identity and create an access key (if you already have one just insert it and skip this step), after that it will be just a matter of waiting a couple of minutes until the software completes the process and finishes the unlock.
Remember that as soon as the process is completed, you will need to restart your phone so that it receives the software actualization for it to start working again. Now, enjoy your unlocked Mint Mobile phone!