Having a blacklisted IMEI on your Samsung device is not the end of the world. Despite this being a very annoying and complex issue, there are ways to remove the bad ESN Samsung if you know how to. In this article, we will explain to you what a blacklisted phone is, how to easily fix and much more.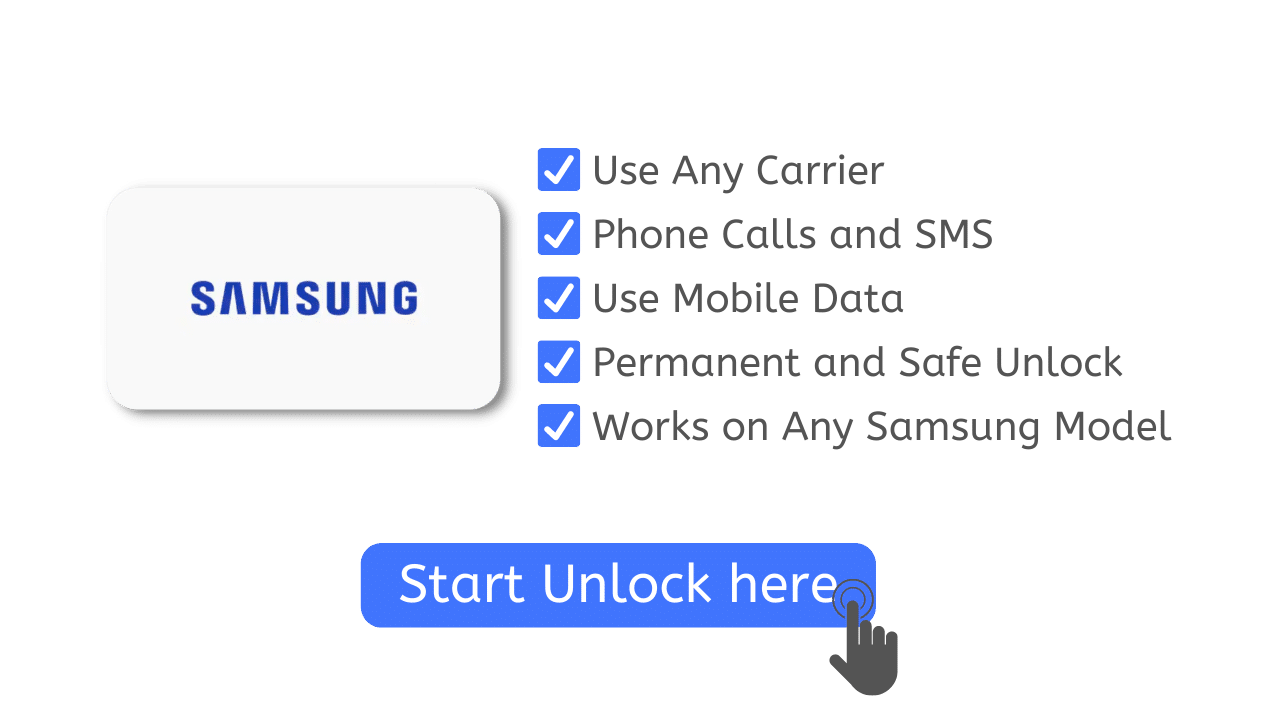 What is a bad ESN Samsung?
A bad ESN (Electronic serial number) is a measure implemented by carriers and law enforcement to prevent the usage of such devices within a certain network. This includes to full blockage of cellular services such as calling, texting, and getting cellular data.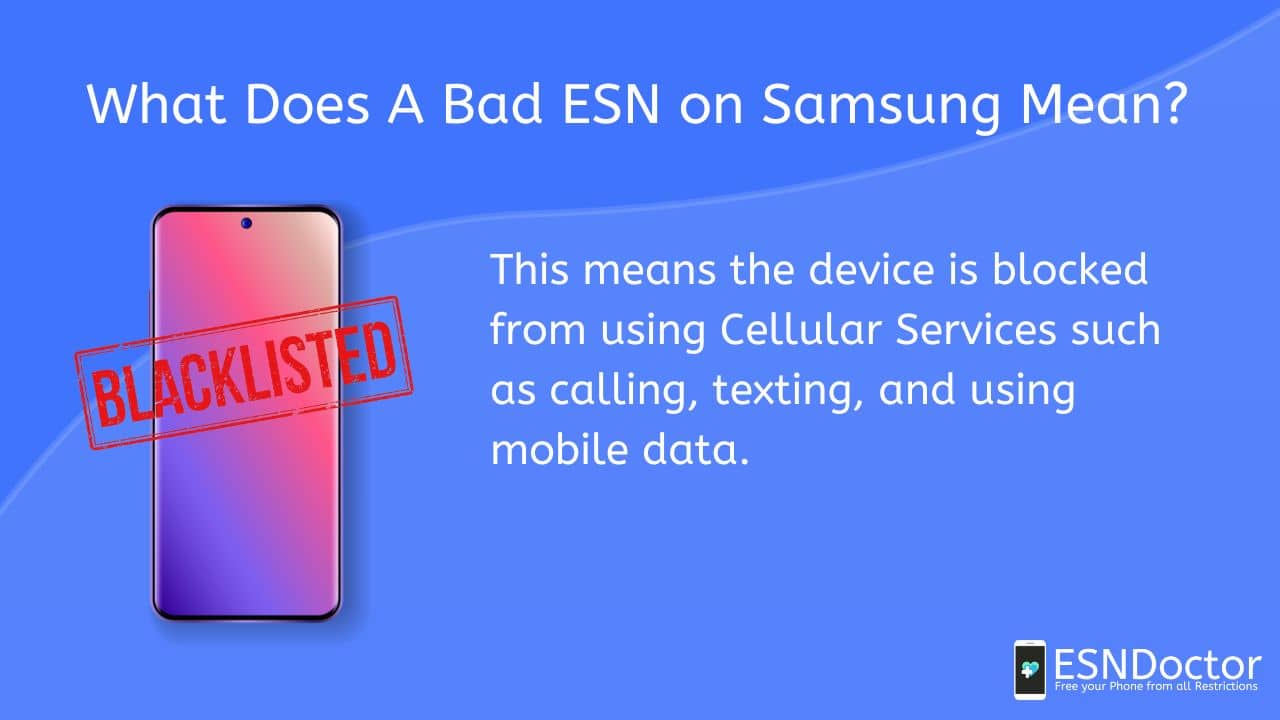 How do the bad ESN works?
The Bad ESN or Bad IMEI (International mobile equipment identity) is a technology implemented via a CDMA network where a common database is shared among all carriers. This list can function thanks to the uniqueness that every code has. All information is stored from the model and country to the possible owner which makes it impossible to function.
Is it the same for all android phones
Having your device on the blacklist works the same for all Android phones as well as an iPhone. Despite big efforts by cellular networks, not all countries utilize the same type of technology which leaves a loophole for devices to be used under a different carrier.
How to verify the bad ESN
Before you try to do any unlocking on your device, we suggest that you do the following steps to avoid using the wrong strategy. Often, users confuse the Sim Card Lock or Carrier lock and assume they face a Bad ESN issue on their devices.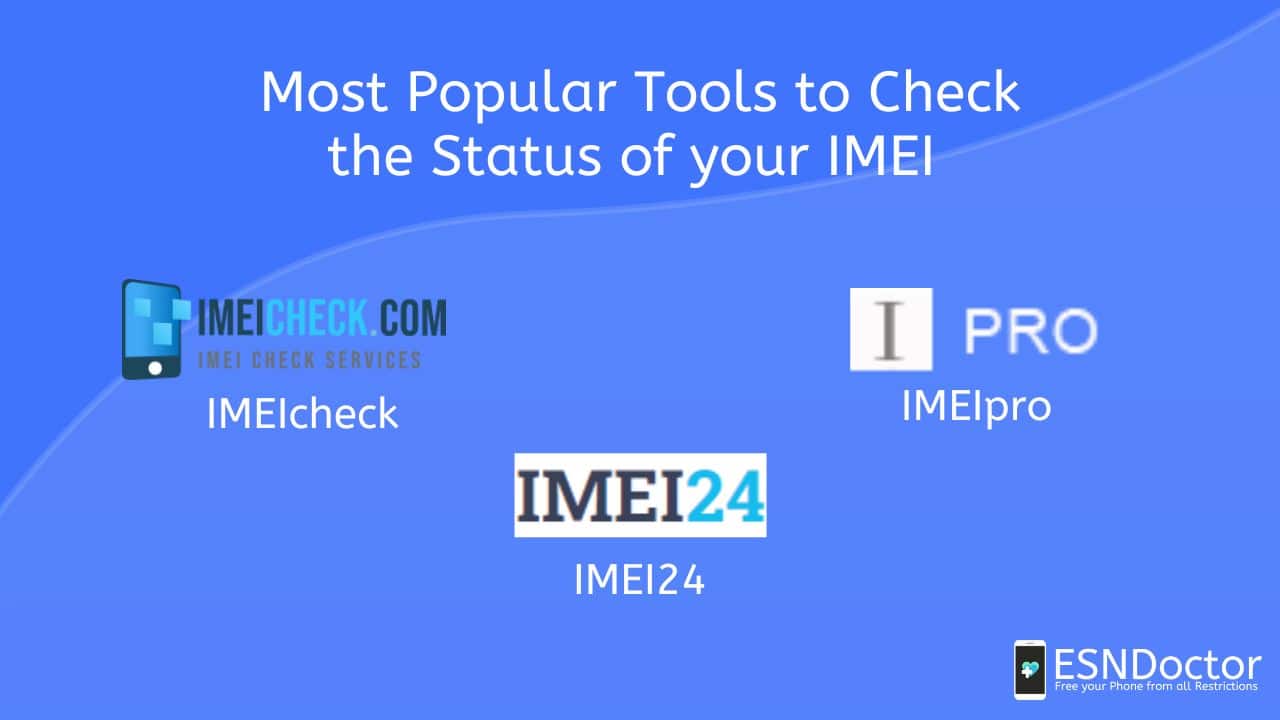 The best approach to know if you have a blacklisted IMEI is to use any of the tools that are available on the internet. This information is open for users to see and you have the right to check the status of your IMEI number. Here's a list of the most popular tools you can use free of charge, feel try to try any:
As always, you are free to check and try any tools that you want, we invite you to do your research and try at least 2 tools before concluding that you have a bad ESN. We usually say this as there might be delays on the platforms and it is hard to figure out just using one. Verify the information provided by the tools also matches the device's information.
Extra checks?
If your device appears as blacklisted on the status, you can do an additional test by inserting the original sim card of the carrier. Please try multiple Sim Cards from the carrier to make sure that it is not picking up any signal on the device.
What causes the bad IMEI?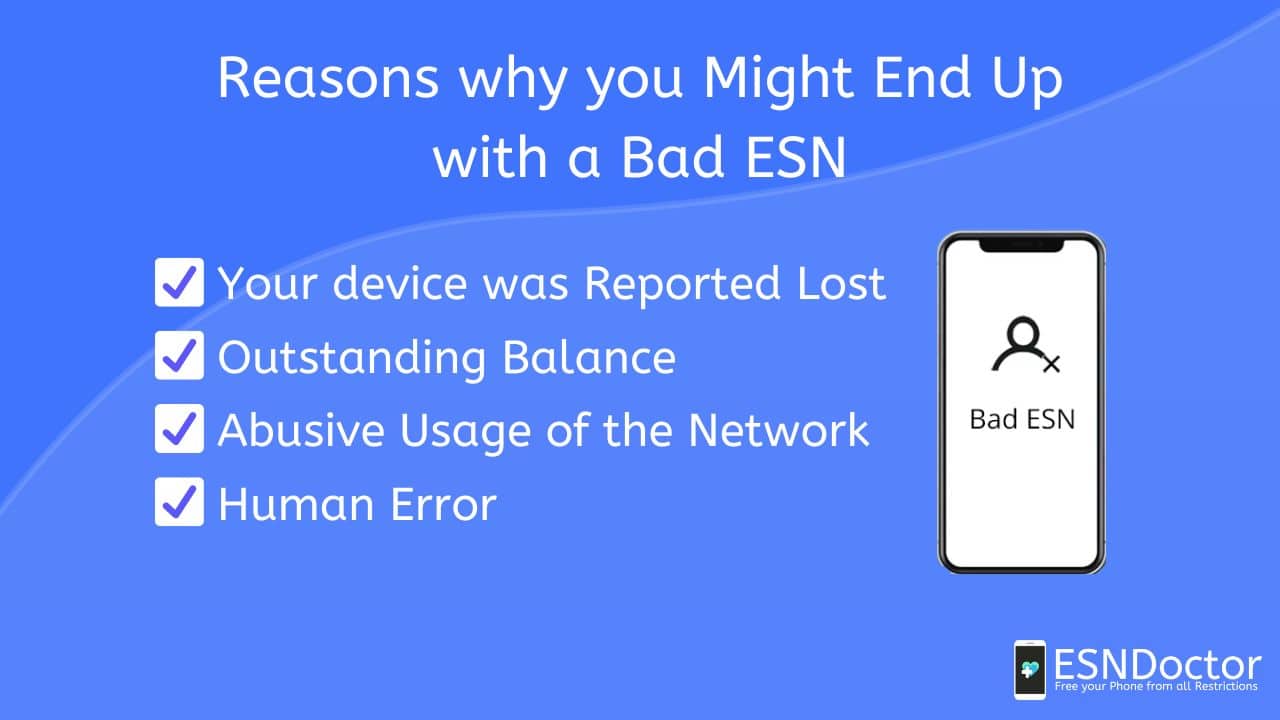 There are many reasons why you might end up with a bad ESN, on this article we will only focus on the main ones but be aware that there are many other reasons. If you are facing a whole different issue, please let us know so we can document it and post it.
Reported lost
Having your device reported lost or stolen it's the most common reason why you might end up with a bad ESN. This might happen because your device was reported to the carrier or the authorities as lost. The main action that companies will take it's to block the usage of your device under the cellular network.
Outstanding balance to the carrier
The second most common reason has to do with any outstanding balance on your account. This usually happens when your device was purchased under the postpaid scheme of your carrier. Companies hold the right to block and blacklist your device if you have any outstanding balance on your account.
Abusive usage of the network
If authorities or the carriers suspend that you are using their services for fraudulent, unwanted, or abusive usage, they can block your phone until you request an unlocking proving that there have not been any bad practices.
Human error
Human error is also one reason why you might have a blacklisted phone, on many circumstances, companies might block your device because there has been some sort of error while typing the device. This is easily fixable if you send an unlocking request to your carrier. We will show you how in just one second.
Unlock a blacklisted IMEI Online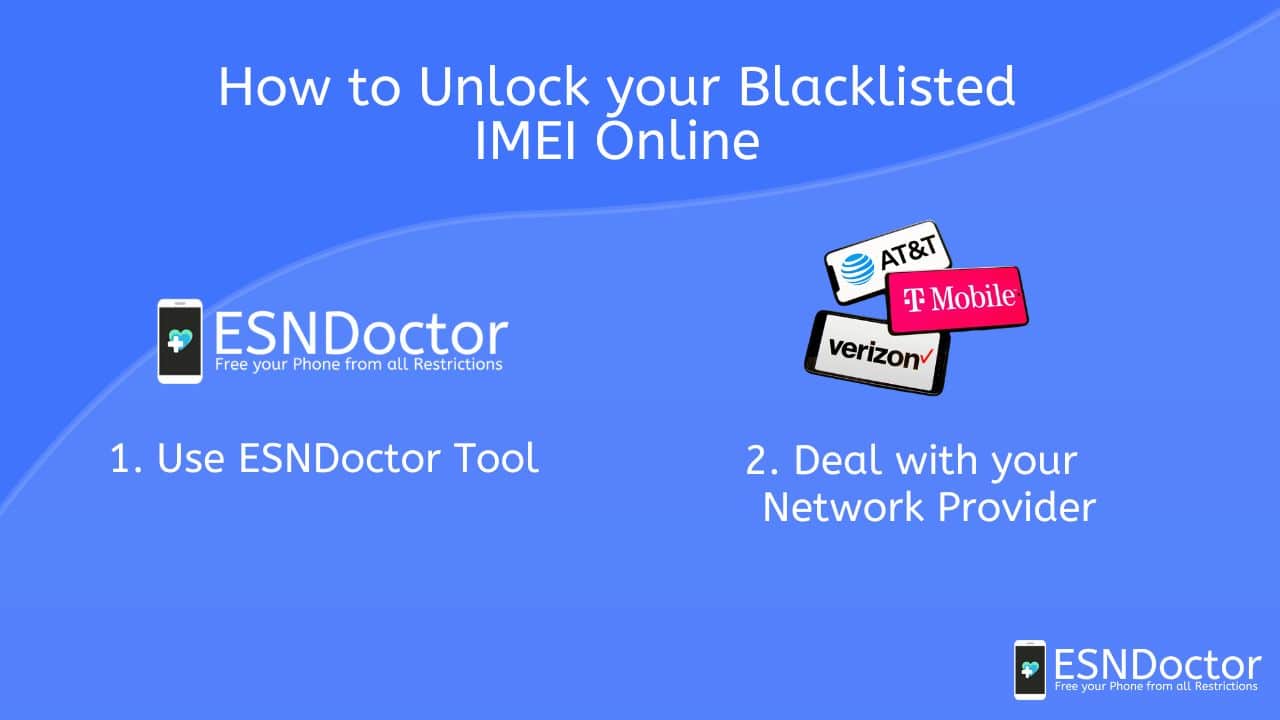 Unlocking your device might be seen as simple as sending a request to the carrier. In practice, this is a lot more complicated as you might need some extra steps and it can be time-consuming. As a way to avoid all of these inconveniences, you can now send your request Online and unlock it from the comfort of your own house.
How to unlock your IMEI number online
Unlocking your IMEI online is an easy process that only requires a browser, an internet connection, and of course having the device near you. In case you want to take this route, feel free to enter the ESNDoctor unlocking platform and submit your request. You will need the following information to begin the process:
Name
Valid Email Address
Device Model
IMEI number
Once your request is submitted to the tool, you might be asked to activate your order using a third-party platform that will grant access and start the process. This unlocking process takes no longer than 2 hours once everything is submitted and will allow you to use your device once again.
Is there any alternative?
In case it was fully a mistake and you have the time to deal with your network provider, you can go directly to the store and request your unlock. Make sure you have some form of ID and proof of ownership and your carrier might ask for it. This goes for all major carriers in the USA (Sprint, Verizon, T-mobile, Etc).
Unlock any Android Phone with the Bad ESN today!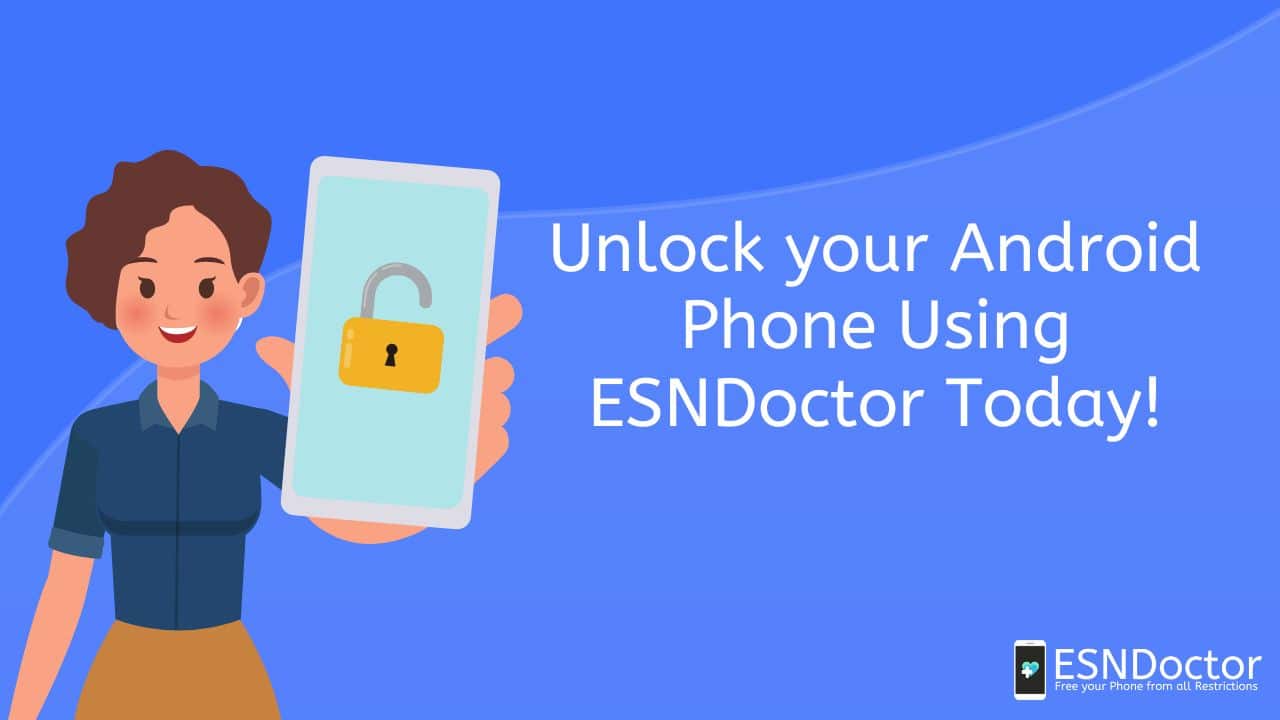 Unlocking your device hasn't been easier, if you are having a bad ESN issue, feel free to try the latest tool by ESNDoctor. If you have any questions, do not hesitate to contact us, a team member will be happy to answer all your questions.